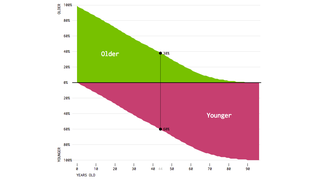 Feeling old? This simple chart will reveal the crushing truth of just how many people in the country are younger than you.
Photographer Anastasia Pottinger has a powerful photo series called Centenarians that reveals what the human body looks like at 100 years old. It's a remarkable achievement to live so long and the marks of age are well worn on the oldest people on the planet.
Researchers at the University of Washington have developed a new technique for simulating the aging of faces over nearly eight decades—and it's incredible.
Growing up sucks. Getting older is no fun. Having your body deteriorate to a shell of itself is embarrassing. But wrinkles and brittle bones are a fact of life. But why! PHD Comics and integrative Biologist Joao Pedro de Magalhaes explain in this nifty animated comic on what aging is and how we can use that…
Aside from the science of aging and how faces get wrinkled and joints get creaky, there are also the hidden costs of aging too. Like how many times we went to the doctor's or how many calories we've eaten or how much money we spend on healthcare and when. This video shows what it means to age, by revealing people…
I'm young and dumb and partake in all kinds of illicit activities. It's part of growing up, right? But after seeing these pictures of what happens to a normal person if they kept living an unhealthy lifestyle? I'm now scared for my future.
0 to 100 is an iPad app filled with the faces of complete strangers. Why should you care? Because all those people come together in the app to show each stage of life, from birth until 100 years old. Each picture comes with a little info about the person and when they're young, it captures the childlike wonder and…
Train stations in the UK sometimes broadcast mosquito noises that are so high-pitched they can only be heard by those under 25 years of age, but Japan's taken it one step too far with this age prediction gadget.
The dudes over at The Tech Lounge sat down for a real-world—not canned—comparison of Mitsubishi's cutting-edge, 65-inch LaserVue HDTV with the current reigning champ, Pioneer's 60-inch Kuro plasma set. Does Mitsubishi's fancy new tech really make for a better high-def experience? The tests show, at the very least,…