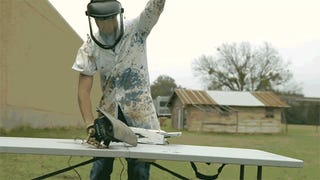 Los que han experimentado en persona los efectos de un airbag aseguran que la experiencia es cualquier cosa menos agradable y, a juzgar por lo que vemos en este vídeo, habrá que creerles. En él podéis ver la impresionante velocidad con la que se activa completamente un airbag, incluso a cámara superlenta.
Sus creadoras lo llaman el "casco invisible", y ciertamente no se ve en absoluto porque no es un casco, sino un elaborado airbag que protege la cabeza y cuello del ciclista en caso de colisión. El dispositivo se llama Hövding, y acaba de salir a la venta después de siete largos años en desarrollo.
Meesh Hytner was doing typical pro-snowboarder things, participating in an informal backcountry competition in Colorado, when suddenly she found herself in a class-3 avalanche. Lucky for her, she was wearing an emergency airbag system, and lucky for you, there's video.
While you're planning your weekend, I want you to consider skipping the ballgame/movie/park. Instead: strap on a helmet, sit on an airbag, and deploy it as your friends watch and laugh. Faceplant? No, no. That's a neckplant you're watching.
Impact Jackets, originally designed to save Japanese construction workers from long falls by inflating prior to impact, have finally made it to the United States. Only instead of construction workers, it's our motorcyclists that seem to be reaping the benefits. And it didn't take too long to see some results.
File this one under "Why didn't anybody do this sooner?" Yamaha's prototype isn't quite the first motorcycle airbag, but the first motorcycle airbag for your, er, tender nuggets.
The latest Honda 1800 Gold Wing motorcycle is really turning out to be more like a two-wheeled car. Not only does it have a 60 liter storage capacity (that's like 15 gallons or so), an 80 watt sound system (for blasting on the highway and annoying everyone around you), it even has a fully-integrated airbag. It's…