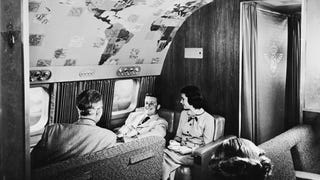 There once was a Golden Age Of Flying. You didn't have to queue up, strip down, and surrender your beverage to the Goon Squad. Meals were served on real plates instead of sad, soggy cardboard boxes. The act of traveling itself was a pleasant part of the journey—instead of a necessary act of mass-transit. These…
The rise of autopilot and other automated technologies in commercial airliners are rendering pilots into incompetent drones. Drones who don't know what to do when a plane's systems malfunctions. Airline officials are calling this looming disorder "automation addiction." Lovely!
The Boeing 787 Dreamliner has to withstand 150% of its wing's load limit for three seconds. It looks like the upcoming airliner can handle the stress just fine. [Jalopnik]
Boeing's next-gen all-composite airliner, the 787 Dreamliner, has taken another hit to its production schedule which has set the project as a whole two years behind.
Early last week a Qantas Airlines Airbus A330 surprised (and injured) its passengers with an inexplicable 300ft climb, followed by an even larger drop.
Initial reports
seemed to place blame on interference from personal electronics — something that Qantas had claimed before. After the news made the rounds the…
I've never been on a trans-Atlantic aboard a military transport aircraft, but I can guess that they're not the most comfortable way to fly. So it's understandable that top-ranking Air Force brass would want something a little more amenable to resting, taking meetings, and watching Hot Shots Pt. Deux on a 37"…