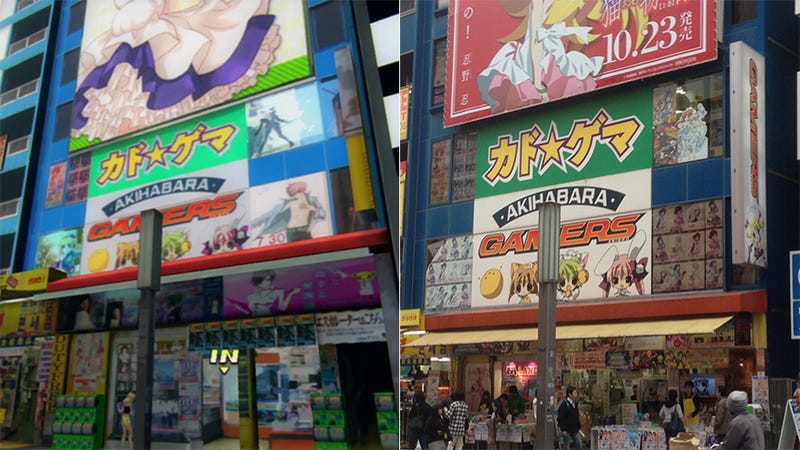 La zona comercial de Akihabara, en Tokio, es la meca mundial de la cultura Otaku y la pasión desenfrenada por todo lo geek. Hogar de la primera tienda de robots personales del mundo, de bares de gatos, y poblada por cientos de cosplayers, Akibahara es parada obligada en cualquier viaje a la capital de Japón. Si…
There's no place more fitting for an official Gundam Cafe than in Tokyo's Akihabara district. Sadly Japanese maids don't draw hearts in syrup over your pancakes or put "love spells" on you like at Maid Cafes...but there are Gundam biscuits!

Nikkei has a post about Toshiba's new Digital Billboard in Tokyo's Akihabara district, where passerbys can dial up a number and connect to an interactive game which is displayed on the giant sign.
Before Tokyo's Akihabara geek district was laced with neon, it looked like this photo taken circa 1950 which I saw on my recent trip. Despite the cow in the photo, even around this time, gadgets were a part of the trade. (Although as the ads below show, phonographs and vacuum tube radios made up some of the choices.)…
Near a highway, a few hundred feet from the biggest electronics building in Tokyo's Akihabara district, sits a tiny mecca for gadget geeks. The orange store belongs to Thanko,
masters of weird USB devices
, and it is their first of 4 shops. The blinking raremonoshop sign tickled my eyeballs, but my geek lust was…
Welcome back to MangoBot, a biweekly column about Asian futurism by TokyoMango blogger Lisa Katayama.
Earlier this week, I joined a team of experts from on an expedition to the world's most famous geek mecca. For half a century, people trekked to Akihabara to buy electronics parts. But in the last 10-15 years, the…
Google's dutiful camera vans have finished canvassing Tokyo, which means today you can now tour some of the world's most geek-friendly real estate in "electric town" Akihabara without the 14 hour plane flight. The folks at Mars Mag have put together a tour of some of their favorite Linux Maid Cafes, Dream PC builders,…
Even if you don't speak a word of Japanese, there's a lot of intensity and information to be had in this newscast of the tragic Akihabara killings last Sunday. I'd just offer up a word of warning before you hit play, as there's graphic material found throughout the clip.
If you're dying to head to Akihabara after seeing our own
Lam groping dozens of cellphones
, here's a video for you. Essentially a complete noob's guide to Akiba, it's a good primer for people who know absolutely nothing about the area. Even if you don't get any new info out of this, you can laugh at the narrator's…

I'm in Tokyo, and I've been avoiding gadgets. After all, I'm supposed to be on vacation. But today Lisa took me to Akiba, and I ended up running through a dozen stores, groping over 50 handsets. I've written about some, like the incredibly simple Wilcom R9, glowing Sony Ericsson w43s and walkman-like w42s. But…