Martin Luther King's 1956 tips for riding integrated buses, examining how design has helped an Alabama county, building instant cities in Accra and instant skyscrapers in Mumbai, and how two New York architects are tearing down the work of their former friends. It's all this week in our favorite Urban Reads.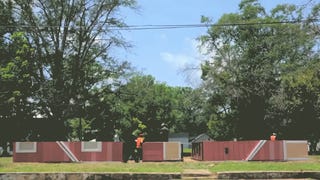 This red-sided house, rotting on a quiet street of York, Alabama, was once a symbol of the town's struggle with blight. But over the past two years, with the help of the citizens who invited him there, artist Matthew Mazzotta has disassembled the abandoned structure and rebuilt it—as a tiny home that unfolds into an…
Alabama's Brown's Ferry nuclear plant, the second-largest in the US, lost power as a result of yesterday's huge tornado that ripped through Tuscaloosa. Thankfully, it shut down as designed, averting a crisis like the one in Fukushima. [Reuters]
Jon Penn isn't your average 11-year-old school kid. No, Sir. In his spare time, mostly between classes, he manages the entire computing network for his school in Alabama. The network consists of sixty computers and Jon took up the role when the previous administrator upped and left, completely unannounced.
It's fantastic to see that all of OLPC's potential is being brought home to our own developing corner of the world, Alabama. Kids in grades 1-8 in Birmingham—15,000 of 'em—will receive XO laptops. Rumor has it Mississippi, Kentucky and West Virgina are also looking, and we can't think of better places to send 'em. […