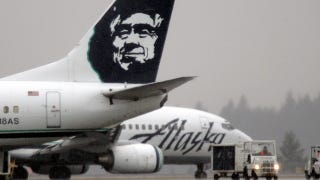 Mention "biofuel" and the average American driver will likely only think of a car that perpetually smells of Burger King. But, these fuels are making quick inroads to the aviation industry—both Alaska and United Airlines have announced today that some flights' fuel supplies include non-petroleum alternatives.
Alaska Airlines has become the first US airline to move away from paper to the iPad for their flight manuals. The measure will save money on paper and fuel while allowing pilots to play with Leafsnap during long trips. [Engadget]
Uh oh, our Jason Chen is going to be pissed when he sees this news. In-flight Wi-Fi's set to get even slower, now that Gogo is giving away free Facebook access on seven of the major airlines.
It looks like the first U.S. carrier to offer in-flight Wi-Fi using a satellite-based setup will be Alaska Airlines, which plans to roll the service out to its entire fleet by 2009, pending the results of a monthlong test this spring. Using Row 44's satellite system instead of an air-to-ground one, a la Virgin America…