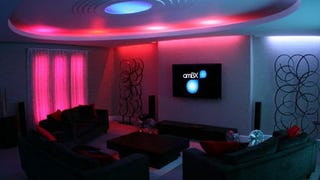 Philips' glowy/rumbly/airy amBX technology is really pretty neat stuff, but its support has been generally limited to the PC realm. Now, a new deal should bring amBX to the PS3.
You might think that taking the AmbiLight idea and applying it to speakers is a bit whack. Well, you're wrong. Imagine having 16 million colors illuminating your computer corner, desk or batcave, responding to the sound and vision in your home. Under the AmBX name, these peripherals come in either 2.1 or 5.1 the…

Philips wants to play games with your head with the amBX gaming system, with two fans blowing on your face, flashing lights, a rumble bar for vibrations and speakers growling at the appropriate moments. Unfortunately instead of adding excitement, it just blows. – Charlie White with video by Richard Blakeley
11:09: VP Andrew Goldman kicks things off. We've got two speakers, one of which is NOT the CEO because he busted himself all up skiing.
Philips's gave us a tour of their amBX gaming system last night running on Far Cry. It's comprised of some LED driven lights that bathe your room in lights similar to on screen colors, fans that blast you with air when your avatar is sprinting or getting knocked around, rumble pads and a 2.1 audio system that's…
Philips has announced the signing of THQ to take the next step towards their amBX lighting technology. THQ is developing Broken Sword: The Angel of Death which will use the amBX lighting technology. This is just the beginning for Philips plans with amBX. They think they are going to revolutionize the gaming world by…
Philips announced its latest endeavor into home entertainment lighting today: amBX interactive gaming lighting. If you recall, or watch commercials at all, you will see the Ambientlight technology Philips currently has available in some models of televisions — this is the exact same thing, but for games. The…