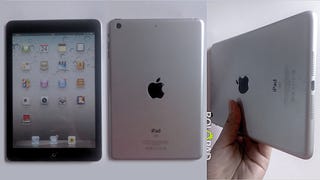 Though analysts usually know nothing more than regular ol' John Apple Fan at home, they do sometimes get access to tech factories and shredded supply chain documents hinting at upcoming products. One analyst, Topeka Capital's Brian White, claims to have actually held an iPad Mini prototype and even put it in his…
Google turned in another solid quarter yesterday, with free cash flow coming in at $2.5 billion. Think about it: that's a $10 billion run rate for a company that didn't exist ten years ago.
Gene Munster, an Apple analyst, says that Apple's likely to release a 7 to 10-inch touchscreen tablet some time in the early half of 2010. Usually analysts' predictions are sketchy, but Munster's is slightly less so.
Another day, another analyst making crazy predictions about Apple products that most likely aren't true. Today it's Ken Dulaney of Gartner saying the second generation iPhone will have an OLED display instead of the current LCD display. Where did Ken get this wacky idea? "'Rumors' overheard in Asia." Here's our take…
According to Pali Research analyst Richard Greenfield, Apple's just made some concessions to movie studios that will result in higher prices for iTunes movies. Each flick will supposedly go up to $15 (compared with an $18 DVD), and is part of the tactic to lure studios like 20th Century Fox to the movie store.
One analyst predicts iPod delays of three months or more, and Apple's stock takes a dive. But why the delay? According to American Technology Research analyst Shaw Woo, Apple switched chip suppliers. As a result, he says the much-anticipated widescreen video iPod probably won't see the light of day until the first…