Since the 9/11 attacks, researchers in the United States have conducted exceptionally cruel, even superfluous, experiments on animals to develop countermeasures to weapons of mass destruction. But as BuzzFeed reporter Peter Aldhous asks: Is all this suffering really necessary?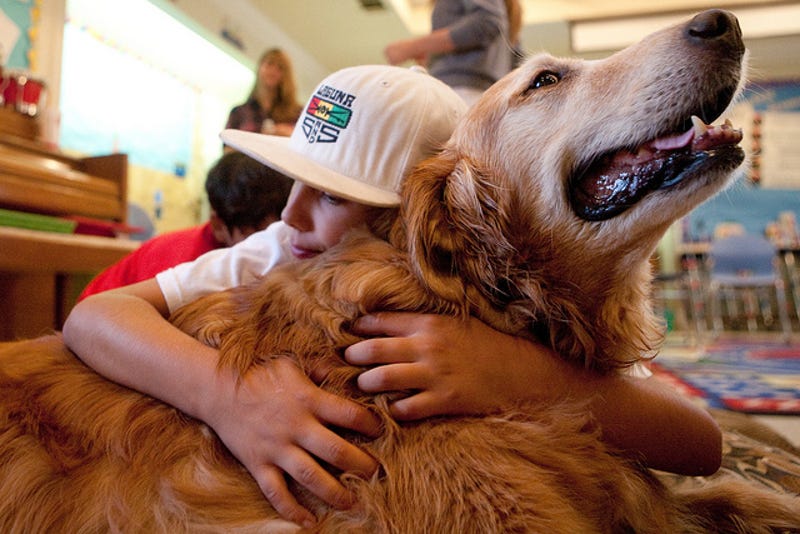 Dogs, horses, and even dolphins are used in animal-assisted therapy. While some animal "therapies" are bad news all around (looking at you, dolphins), others have had positive results. Trained, domesticated animals like dogs or horses can be quite beneficial for humans. But how do therapy animals themselves fare?
Massive amounts of time, money, and energy have gone into understanding the effects of animal-assisted therapy people. In general, the results are positive. Animals can help rehabilitate prison inmates, they help sick children and adults feel better, and they can help folks with social or emotional disorders learn to…
The San Francisco Zoo recently introduced its lemurs to some pink plastic flamingos. The results were predictably adorable, but the flamingos weren't just decoration. They're an effort to give the lemurs a bit of mental exercise.
Last month, we reported on a bill introduced to the California State Legislature by Assemblymember Richard Bloom, which would end killer whale performances in the state and begin to phase out their captivity more generally. Today, Bloom's office announced that the vote was delayed for further study.
New legislation being proposed in California would begin to phase out the keeping of killer whales (Orcinus orca) in captive environments in the state. Democratic Assemblymember Richard Bloom of the state's fiftieth district announced the bill this morning at a press conference on the Santa Monica Pier. The bill, AB…
If ever I want to give my late, unlamented sister-in-law—she's not dead, she's just not my sister-in-law any more—a present (other than a punch in the chops) then I need look no further than the Hot Dog Temperature Alert system for cars. Install it, turn it on, and if the temperature rises above a preset one, then the…