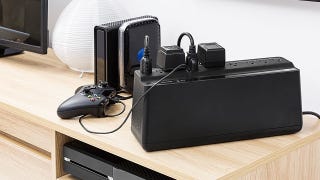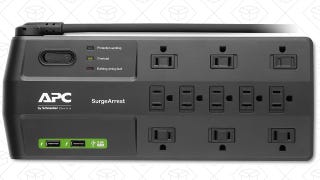 Featuring an eight foot power cord, 11 AC outlets, and two USB ports, this APC surge protector is exactly what you need behind your home theater or office desk. Its current $30 list price would be a match for an all-time low on its own, but the $5 clippable coupon on the page makes this deal even sweeter.

A UPS—or uninterruptible power supply—beneath your desk can be a lifesaver if your building loses electricity while you're working. However, most people don't own one because a UPS is typically designed for power-hungry desktop computers and end up being heavy and expensive—but not APC's new tiny and cheap Back-UPS…
China's got a new beastly toy to mow down the massses: the YLGA01 8x8 SWAT APC. It's rugged, armored, and scary looking—exactly what you want from an APC. But on the inside? Pure comfort!
We've seen some really cool notebooks here at CES, but if you don't have the cash to spend on a new system, one of these accessories should keep your system running with the big dogs.
Nowadays not having access to any kind of power sources may be a bit tough, or if you are Apple not having access to a USB port may be tougher, but APC is trying to help with the Mobile Power Pack. APC is normally known for making large battery backup devices to keep computers chugging for some extra time, but the…