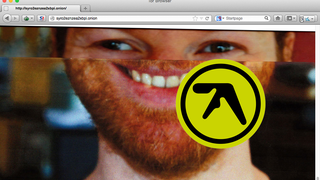 It's been 13 years since Aphex Twin released his last album, Drukqs, and fans have been foaming at the mouth for the next installment of the Richard D. James saga. On Monday morning, Aphex Twin taunted those fans in truly nerdy, fairly tantalizing fashion, by pointing them to the deep web.
Disquiet's Marc Weidenbaum caught up with Joyrex, who recently helped lead the way in discovering—and releasing—a lost Aphex Twin album from the 1990s. Available commercially now for the first time ever, the album was produced the same year as Selected Ambient Works Vol. II. In this interview, Joyrex discusses the…
Bay Area sound critic Marc Weidenbaum—acoustic historian, noise futurist, music instructor, and writer of a brand new book about Aphex Twin—has been blogging about music, electronics, and everyday sounds at his blog Disquiet here at Gizmodo for the last few months.