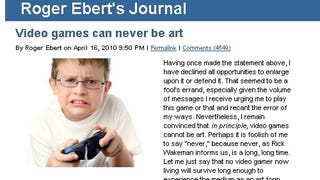 In a huge 1800-word apology on his Sun Times blog, critic Roger Ebert admitted it was stupid to complain about games not being art—as he wouldn't review a film without at least sitting through the first 45 minutes.
Mark Zuckerberg's Facebook mea culpa from a few weeks back sounded a little forced, didn't it? Here's what he really wanted to say. He's soooooo sorry about all that privacy stuff, guys. Seriously. [UCB Comedy]
Google has admitted that their Buzz testing process was equivalent to mine: Click enable, then disable it ninety seconds later. They said to the BBC that their testing sucked donkey balls, which is why many people hate it. The excuse:
Remember Amazon's remote deletion of all Kindle copies of 1984? Big bro' Amazon is trying to make nice by offering affected users some pretty words along with either $30 checks or redelivery of 1984 (with your original annotations).
Over the next few weeks, you will see posts showing up on io9 that look like crossposts from a Gawker Media blog called Blood Copy. These are not real posts. They are sponsored ads that are part of an alternate reality game (ARG) created by the True Blood marketing team.
Guys, thanks for the emails this morning RE: Zune 2. I know a lot of you were expecting rich Zune 2 coverage this AM, but we were apparently put on the second tier list and are waiting for our hardware to arrive today, after everyone else has run their coverage. I'm not sure what happened. There are lots of people on…