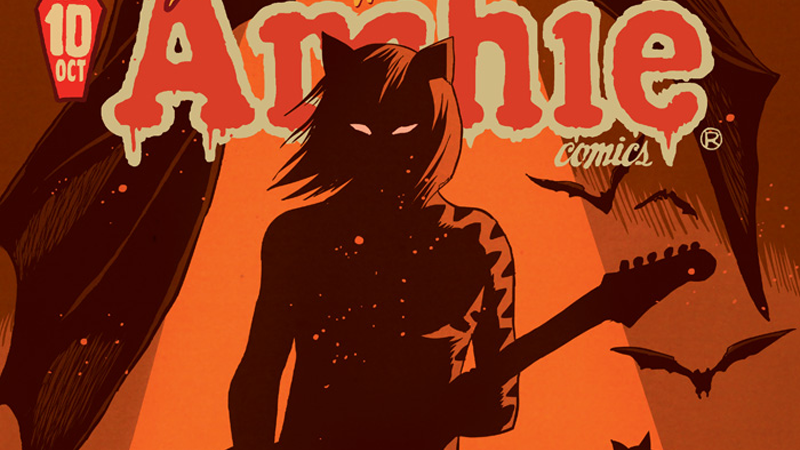 We love Afterlife with Archie's horror-laden take on Riverdale, so we can't wait to see what Roberto Aguirre-Sacasa, Francesco Francavilla, and Jack Morelli when they get their hands on an Archie Comics stalwart like Josie and the Pussycats. As this new preview shows, they're doing some very sinister things.

Tomorrow, May 7, is the happiest day of the year for comics fans: Free Comic Book Day, which is both a celebration of the hobby and a chance to read tons of new comics given away without paying a dime! While some are reprints, most contain awesome new material—and here's our guide to the very best of this year's…
It's been a remarkable year for comics. Huge publishers like DC and Marvel have rejuvenated their line-ups with tons of amazing books; beyond the big two, there's been some of the most compelling, challenging material in the industry we've seen in years. It was hard to narrow it down, but here's 20 of 2015's best.
It's October, the universally-recognized month of all things scary. But while there are perennial books like The Walking Dead out there, as you count down to Halloween, you'll need a lot of entertaining reading material to keep your spine thoroughly chilled. So why not sit down and spook yourself with some of the best…
Remember Vampironica? That unholy fusion of Vampirella and Veronica from Archie Comics? We haven't seen her since 2012—but Archie Comics just announced she's coming back, with an announcement that asked "Who is Vampironica"? And looks like Jughead is in trouble...
When did Archie Comics become the weirdest, craziest comic company around? The Riverdale icon is no stranger crazy crossovers — he's recently gone up against the living dead, and earlier this week faced the goddamn Predator. Archie's next crossover challenge? Syfy's Sharknado. What?!
Yup, Orphan Black expands into the world of comics this week, and we can't wait to see what's in store for the Clone Club. Plus, Spider-Gwen swings into action in her very own standalone series, the heir to the Frakenstein name teams up with Frakenstein's monster, and much more. Here's what's new in this week's comics!
Longtime fans of superheroes will be very happy with two announcements made at Saturday's DC Universe panel - Not only will J. Michael Straczynski be responsible for bringing the 1960s Archie Comics superheroes back into comics since the 1990s Impact line, but Dwayne McDuffie will also bring Static and the other…