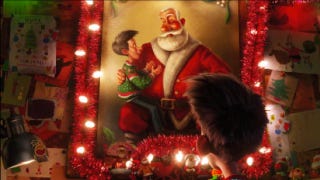 Santa Claus. He's rather like the parent we eventually shipped off the the old folks' home after we became tired of all the loud and annoying antics. But that's not how it should be! Discovering the flaws of your loved ones should bring you together, not tear you apart — at least that's the message of Aardman…
Believe it or not, the latest addition to the Christmas movie genre, Arthur Christmas, is kind of fun. When we caught a sneak peek, we were impressed with how this Aardman Animations film plays with the mythology of Santa Claus, and turned the reign of Claus into into a bit of a monarchy.
We weren't terribly sure what to make of the holiday movie Arthur Christmas with its impressive list of UK talent and giant Santa space ship.. But once we saw more of it, we found ourselves won over, thanks to a strong dose of clever grown-up humor.