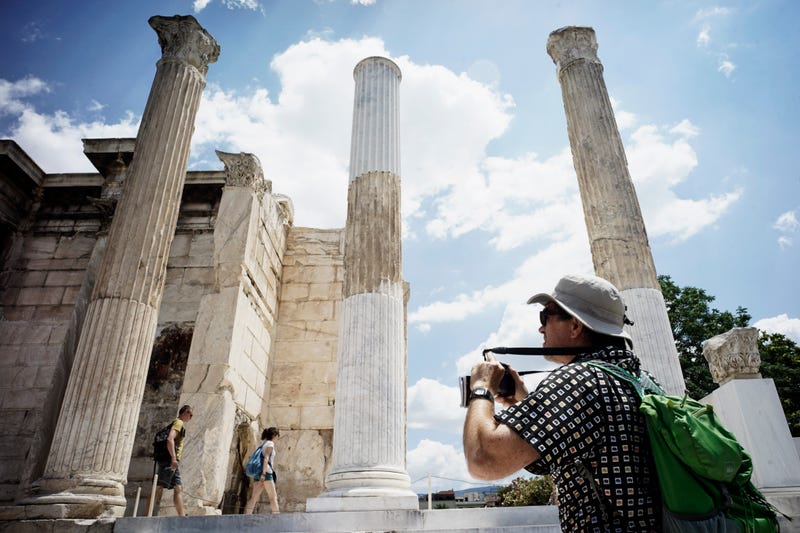 We've heard report after report about ISIS looting and destroying ancient archaeological sites in Iraq and Syria. But across the Mediterranean, the looting of antiquities is also posing a problem in economically-strained Greece.
These are the contents of a mysterious white bag found hidden in Neil Armstrong's closet: Weird looking lamps, wrenches, utility brackets, sights, and a film camera that later was identified as the one that captured the famous Apollo 11's descent on the Moon's surface. Nobody knew about it, including his widow.
Today, diggers unearthed a cache of Atari 2600 game cartridges in a New Mexico landfill. Game aficionados have told the urban legend around the buried games for decades. Now I'm wondering: in a world of digital-only media, will this sort of discovery cease to exist? What do you think?
In his ongoing quest to prove what an adventurous savage he is, Russian Prime Minister Vladimir Putin went diving in the Black Sea. Lo and behold, after diving down a couple of meters, he happened upon two sixth century urns. Convenient.
JJ Abrams may want mystery, but reading the last issue of Wired made me realize that I don't want mysteries. I want to know. Which is why I used to love their future Found gadgets.
Spam bots deserve every nightmare. Jeffrey Augustine's Dream Captcha updates a familiar faux-cultural symbol with the security layer consumers expect from their nocturnal hallucination protection device. [
Jeffrey Augustine
via ]