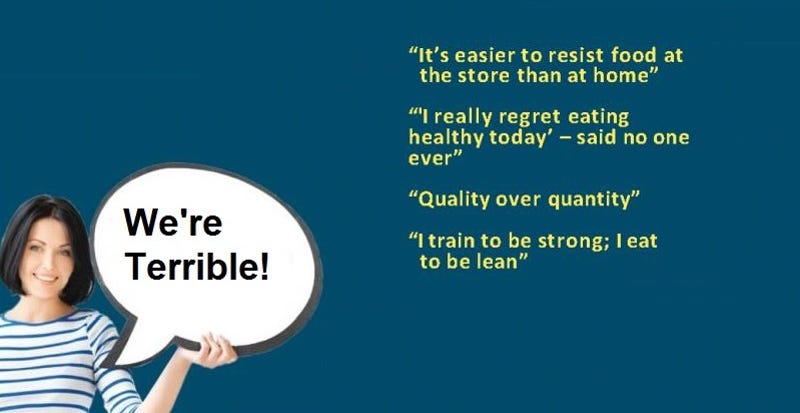 It's important to give people accurate information about food, and it's important to communicate that information in an effective and convincing way. Unfortunately, this infographic, put out by the food psychology department at Cornell, is to food psychology what John Wayne Gacy was to party clowns.
Some asshat at Los Angeles International Airport ruined a plane-full of people's days on Sunday night. He named a Wi-Fi network "Al-Quida Free Terror Nettwork," and a passenger about to take off on a 9am flight to London noticed it. The plane didn't take off until 1pm as a result.
You gotta hand it to the TSA, they're really good at making you hate traveling. CNN has recently obtained a list of 70 "behavioral indicators" that the TSA uses to identify potentially high risk passengers and one of 'em is if you complain about the TSA.
While Dr. Leary was fairly entranced by computers and cyberculture in the '90s—what stoner wasn't?—I hardly think he meant "turn on, tune in, drop out" to be used to sell consumer market research services. Shameful. [via press release]
There's hardly a spokesasshole in the world of tech who doesn't throw around some kind of tagline. And that's fine because it's his job, but there's no reason for you to repeat those taglines. Especially any of these seven.
Wondering why anyone would want to trick the world into thinking their 6-year-old was flying away in a gigantic party balloon? Well, it turns out that the Heenes were developing a reality show with the Wife Swap production company. And as we all know, the best way to get a deal made in Hollywood is to commandeer the…
Monster Cable, suer of an incredible number of companies that just happen to have the word "Monster" in their names, has turned their attention to Monster Transmission. They make transmissions.
For currently unknown reasons, several internet griefers decided to screw with epileptics last weekend by posting flashing and multicolored images in a support forum run by the nonprofit Epilepsy Foundation. About three percent of epileptics are photosensitive, which means that the flashing lights and colors can…
Lately, I've been getting tons of complaints about asshole commenters. I'm not talking about the ones that disagree with others in a gruff way. Freedom of speech, and all. I'm talking about people who obviously have mental problems and like to take it out on the rest of us who frequent Gizmodo. I've been lax with the…