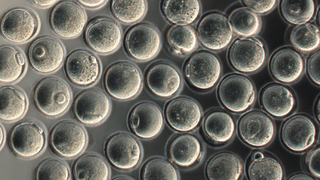 Using skin cells extracted from mice, researchers in Japan have produced fully functional egg cells that were used to produce healthy mouse pups. Should the method work in humans, it could introduce powerful new ways of treating infertility—and even allow same-sex couples to produce biological offspring.
It's been 20 years since the birth of Dolly the Sheep, the first mammal to be cloned from an adult. Because Dolly died prematurely, scientists have worried that cloning accelerates the aging process. But a new analysis of 13 cloned sheep—including a batch of Dolly's genetic duplicates—shows this isn't the case.
Scientists say a groundbreaking fertility treatment to correct potentially harmful genetic mutations has the potential to backfire, recreating the exact mutation the intervention was meant to fix. It's a problem that could put an immediate halt to the pending practice—but a work-around may be possible.
A group of geneticists has called for a moratorium on research into modifying heritable human DNA — a practice that could lead to so-called "designer babies." But as scientists consider this drastic proposal, they should also recognize the potential benefits this technology could afford – and the risks of an outright…
We've been thoroughly enjoying Orphan Black, BBC America's show about a young woman who discovers, to her shock, that she's a clone. But what if, instead of being an orphan with no knowledge of her genetic heritage, Sarah was raised by loving parents? How might they try to ensure she grew up to be a happy and fully…
In vitro fertilization was developed well over thirty years ago, but its far reaching potential for helping couples with fertility issues has yet to be fully explored. The most recent reminder of this arrived on September 5, 2012 when a baby girl named Elle Cynthia was brought into this world via cesarean. But unlike…
A number of years ago we reported on how a "three-person IVF" procedure could be used to stop serious conditions from being passed from mother to child. The prospect caused serious concern among many scientists and ethicists. But now the BBC is reporting that a bioethics council is green-lighting the treatment.