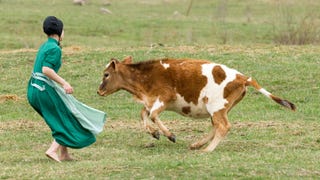 For years, scientists have known that growing up on a farm protects children from asthma, but the reasons for this weren't entirely clear. A fascinating comparative analysis of Amish and Hutterite farming communities has finally uncovered the specific aspects of farm life that are responsible for this built-in immune…
New research suggests that exposure to certain microbes during infancy—particularly, to those from a particular strain of bacteria found in dogs—can alter the intestinal flora of a baby's developing GI tract such that asthmatic symptoms of a common virus, respiratory syncytial virus (RSV), are undetectable.
Asthma affects about 300 million people around the world, but can be difficult to diagnose. That's why scientists designed an electronic nose which can sniff the air exhaled by a patient to determine whether he or she has asthma.
Asthma attacks can come out of nowhere, or so it would seem. A new portable system is trying to predict asthma attacks by sampling the air and identifying likely triggers. The 1-lb. device, designed by a team at Georgia Tech, takes samples every two minutes, looking at recorded air temperature and humidity, and…
Instead of having a doctor put one cold-ass stethoscope onto your back, Deep Breeze's Vibration Response Imaging system puts 42 cold-ass stethoscopes onto your back. By using acoustic vibrations, the machine—hooked up to a computer—can produce an image of your lungs in mere seconds. And if you calibrate it juuuust…