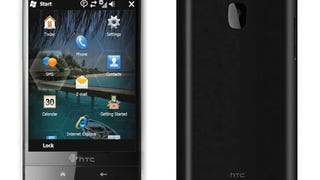 DARPA, the Pentagon's source for R&D (and lovers of acronyms big and small) have released a video illustrating the Damage Tolerance and Autonomous Landing Solution they developed alongside Athena Technologies. Basically, DTALS is designed to take over for a pilot in the event that the aircraft sustains heavy damage.…
Chief Tyrol says this is not his beautiful life, while Admiral Adama is struggling to hold on to the things he believes in. And Baltar is tired of being afraid and ready to stand and fight. Those are just a few of the awesome insights you'll glean from these new promo clips for Battlestar Galactica season four,…
It's a strange pehnomenon, we talked about the HTC X7500 for so long that it felt like the real product could never actually exist. But Boy Genius Report got their well-manicured fingers on a real model and stripped it down slow tease style for us all to enjoy.
We like its 5-inch screen, its Wi-Fi and Bluetooth connectivity, and especially that thin little keyboard that attaches magnetically. But why are they calling it a Dopod U1000? Laughable name, but who cares? There's nothing dopey about it. See more pics and specs here, our hands-on impressions here, and check out the…
HTC was showing plenty of love for Windows Mobile at their 3GSM booth. Their number one star, however, was the X7500, the UMPC, laptop, smartphone hybrid that's seen more name changes than Prince. Spec-wise, we all know what the X7500 has to offer, so I won't rehash that. Instead I'll talk about what it's like using…
Is it a Windows Mobile portable PC, or is it an Ultra mobile PC (UMPC)? Is it the HTC Athena, is it the Ameo as we heard just last month, or is it the HTC Advantage?
That Windows Mobile powered HTC Athena we showed you before is being released in the Netherlands on T-Mobile under the name AMEO. Along with the removable keyboard, the Ameo has an Intel XScale 624MHz processor (our HTC TyTN/Cingular 8525 only has a 400MHz processor), 8GB hard disk, 128MB RAM, 256MB ROM, miniSD…
Some better, and real, pics of the HTC Athena have just emerged, and it's some kind of weird bridge device that nobody thought would exist.
Designed for people who need a bit more computing and a bit less mobility in their mobile computing devices, the HTC Athena looks more like a UMPC than previous HTC smartphones that we've seen. Featuring a removable QWERTY keyboard, the Athena has a 3.5-inch touchscreen QVGA display (they should have went VGA for a…