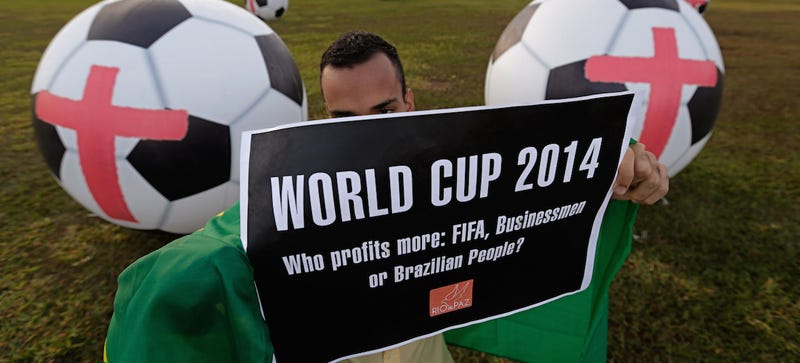 For lovers of both bicycles and Paul Reubens, Podium Cycling is offering this Skinsuit inspired by Pee-Wee Herman's grey glen plaid suit, complete with printed red bowtie. The secret word is: Nostalgia.
Your workout clothes and the bag you carry them in are probably a damp, disgusting mess. So it'll be nice if this odor-killing bag from Stuffits actually delivers on its promise to simultaneously dry out your clothes and neutralize their stink.
Okay, so it's not as light as the world's lightest, but TriRig's12.9 pounder is still pretty damn light. Crafted out of tough carbon fiber, the his model's made for triathlons—so it's as aerodynamic as it is pillowy.
We are always looking for the best ways to improve our rigorous physical workout routines, and the Informance smart sunglasses look like a worthy asset to our arsenal of workout gear. The instrument is intended for use by professional athletes, and will allow them to view vital statistics in their peripheral vision…
This is a pretty average flash drive that comes in a not-so-average package. This toe of this athletic shoe pops off to reveal the USB connector capable of storing up to 1GB of your favorite sports (or anything else) related goods. No, your eyes aren't deceiving you. That appears to be the oh-so-familiar Nike swoosh…
AP Nike President and Chief Executive Mark Parker recently said that all Nike running shoes will become compatible with the Nike+iPod sensor by the end of the year. There were no other details offered, but I would suspect that over the year Nike will slowly phase out the old kicks in favor of new ones that are Nike+…
For anyone who wants to get running with the Nike+iPod Sport Kit but is disinclined to drop a hundred bucks on a new pair of special Nike+ kicks, comes the RunAway AnyShoe adapter. This $8 weatherproof sensor holder attaches to your running shoe's laces and has an easy-to-access button to turn the sensor's wireless…