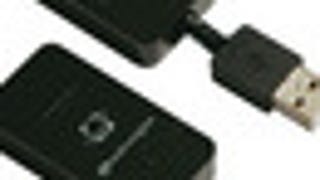 Audioengine has released a software independent, wireless music streaming solution, called the AW1. The AW1 set contains a receiver module and transmitter; the receiver connects via USB, RCA or line-out and the transmitter connects to your PC via USB. The audio sent is then picked up by the connected audio source,…
Congrats to Tekmo and K.O. who won the pair of Audioengine A5 speakers in our Theme Song contest. It was a tight race and their song edged another song by seven votes. Hit the jump to hear the winning tune.
Our Theme Song Contest finished up last week and after narrowing down the entries to the top nine or so we leave it to you, the readers, to vote for a winner and potentially a theme song that will appear in our original content videos.
The Gizmodo Theme Song Contest finished up last week. I compiled nine of the better entries and now leave it to you, the readers, the vote for the winner. The winner will receive of pair of Audioengine A5 speakers valued at $350. Big thanks to Audioengine for sponsoring this contest. Now, hit the jump to listen to all…
Our theme song contest is still going strong. Don't know what I'm talking about, it's okay. Hit the link after the jump to find out all of the details and hear a sample of a song from Josh S. and JahFurry. Contest ends Friday. Thanks to Audioengine for sponsoring this contest.
This is a quick reminder that our Gizmodo Theme Song contest is still going on. Follow the link to find out what you need to do to win, and what prize we are giving away. Thanks to Kevin for his entry below—nothing wrong with some good old fashion softcore porn background music.
Only one day into our Gizmodo Theme Song Contest and we are already have quite a few entries. To clarify it again, make sure your theme song is no longer than 30 seconds in length. We've received quite a few songs that consist of mostly techno loops with a robot voice saying "Gizmodo" in the background—not really…
Gizmodo readers are a melodic and creative bunch, and of course, you all love the Giz. The best way to show off this deep affection and talent is to enter the Gizmodo theme song contest.
At first glance I was skeptical about the Audioengine A5 bookshelf-style speaker system. But once I received my unit and opened up the box I knew something was a bit different. First and foremost, the individual components were wrapped is cloth bags in the box rather than not wrapped at all or in traditional plastic…