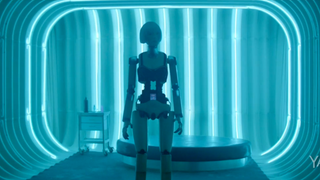 If Blade Runner and I, Robot gave birth to a new movie starring a bald Antonio Banderas, it would look just like Automata, the latest vision of our inevitably dystopian future. That future—or at least the way director Gabe Ibáñez has imagined it—also looks pretty dang awesome. Well, spectacular is probably a better…
This gorgeous experimental film by director Joey Bania explores the unique and dazzlingly creative world of Blair Somerville, resident inventor, tinkerer, and self-described "organic mechanic" of Popotowai, New Zealand. The film, which mixes elements of documentary film making with time-lapse motifs and stop-motion…
This Automata iPhone Dock by Murtaza Lakdawala is clever and useful, a combination rarely found in DIY projects. All you have to do is crank and the dock turns from vertical to horizontal.
Gaze upon Machine à Ecrire le Temps—so elegant, you say it in French—created by watchmaker Jaquet Droz as an homage to its robot-building 18th-century Swiss founder. Live, though, the $342,000 line-drawer ain't so smooth.
We love weird robots as much as anyone else, but if we had to look at this gallery of strange automatons for more than a few minutes, we wouldn't be able to achieve an erection again ever.