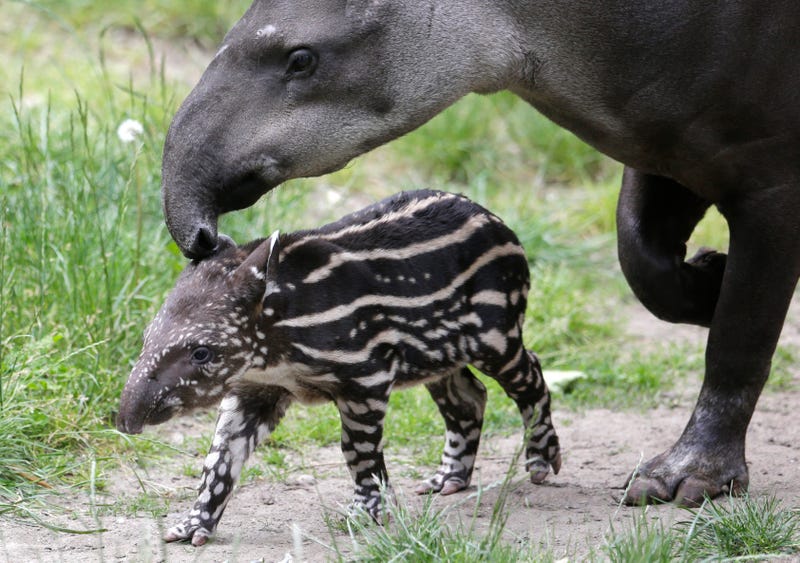 Just six or seven days old, a baby Western lowland gorilla has a snooze in the arms of its proud mother, Frala, at Sydney's Taronga Zoo. So far, mom and newborn have been hanging so tight that keepers haven't been able to determine whether their newest charge is a male or a female.
Oh yeah and if you have any worms or whatever, insert 'em HERE! K thanks! This pair of li'l baby falcons was born on a farm near the northern Serbian town of Coka. Once they're grown, these birds of prey will be trained for falconry, a practice which dates back to 2,000 BC.
City dwellers encounter pigeons every day. But have you noticed that you never see a baby? One big reason: they stay in the nest until they're adult-sized, which is why pretty much the only people who see pigeon babies are those who raise them, or know somebody who does — like the person who snapped this pic.
Regular weekend readers may recall this image of a just-born Great Horned Owl poking its beak out of the nest. Well! Almost exactly month later, look how big that little guy/gal has gotten — and hey, look at all those siblings, too!
Five-month-old Bornean orangutan Tuah peers out from the Great Ape Building at Utah's Hogle Zoo at his introduction to the the public last week. The little guy is thriving under the care of his older sister, who stepped up into a parenting role after his mother died three weeks after he was born in November.
Six-month-old one-horned rhino Jalada Prasad had a prance party in honor of his public debut Friday at Alipore Zoological Garden in Kolkata, India. Little dude had some rough early months after his mother was killed by poachers. But! He was rescued and nursed back to health, and now appears to be quite the peppy fella.
A very young owlet (estimated to be around 10 to 14 days old!) hangs with its mother at Metzger Farm Open Space in Westminster, Colorado. The photographer notes: "Given the mother owl's behavior in the previous photo, there are likely other younger owlets in the nest."
Earlier this week, an 18-year-old gorilla named Imami gave birth to a baby girl at the San Diego Zoo Safari Park. She was closely monitored throughout the labor process by the zoo's veterinary staff, and when she showed no signs of progress, she was transported to the Safari Park hospital for an emergency c-section.…
Because there's no such thing as too many baby animal videos, here's one more for today. On January 21, a female Coquerel's sifaka (Propithecus coquereli) was born at the Saint Louis Zoo, and starting this week, visitors can see her in the zoo's Primate House. The zoo named her Kapika, which means "peanut" in…