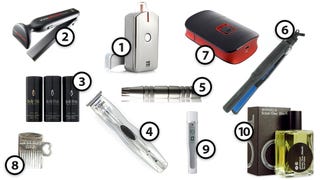 He takes longer than your girlfriend to get ready. Zac Efron hair is his Holy Grail. Somehow you're still friends, so help him preen with a gift that will blow his vain brain away.
His skin care arsenal contains every possible weapon. Still, he will experience the occasional, world-rocking breakout. Help him banish…
Bar breathalyzers are ubiquitous these days (and are totally for entertainment purposes only!) but the one from Topland offers something new: An etiquette checker! What that means, at least in Japan, is it checks for bad breath too.