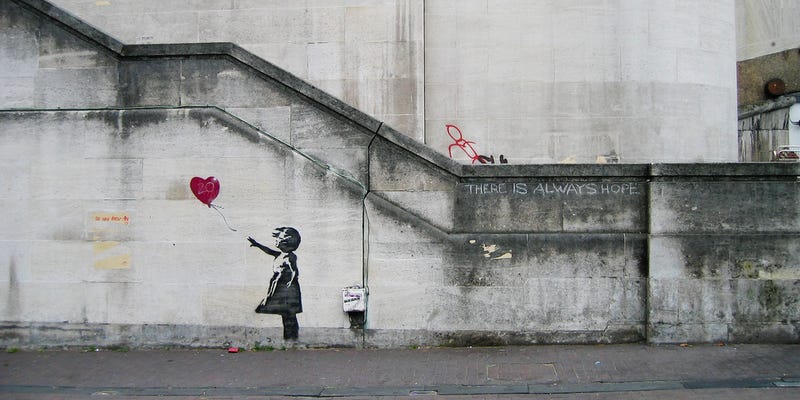 Describing graffiti as a "minor terrorism-related act," researchers in the UK have used a technique developed for crime-fighting to tag the identity of a Banksy, a highly prolific but secretive street artist. The system could thwart more serious crimes, but its use in outing an anonymous artist shows the potential for…
You may have seen a clever Banksy illustration of broken pencils being shared far and wide on social media yesterday. It's a powerful message about optimism and rebuilding after facing adversity. But it's not by Banksy.
If you visit the elementary school in Terracina, Italy, you're going to be a little bit tripped it out. As of a month or two ago, several small children appear to be standing sideways on the building's façade. But obviously, children cannot defy gravity. They're actually the latest creation of a street artist named…
You missed it. On Saturday, Banksy set up a nondescript stall on the edge of Central Park, where he sold stencilled prints for $60 a pop. The monkey with a sign, the guy with the flowers, the rat with the smirk—all the classics were there. Too bad nobody wanted them.
Banksy, the mysterious (er, kind of mysterious) British street artist who popularized stencils in the 2000s, is in New York this month to stage a 30-day exhibit that takes place entirely on the streets. His first piece, yesterday, has already been painted over. But we were able to locate today's feature, which is…
Chances are you're familiar with Banksy, the never-visible face of modern day street art. As awesome as Banksy's art can be, the secretive underground scene he runs in is even more interesting. Exit Through the Gift Shop provides a rarely candid look into what is probably the coolest illegal operation around.
The video above is your only clue. Your mission, if you choose to accept it: find this signed and authenticated print of Banksy's "No Ball Games" within the next 30 days at one of the Art Series hotel chains—snatch it without getting nabbed and it's yours to keep. The piece is stashed somewhere in the Melbourne area…
Thinking that Banksy is cool has become so mainstream that it's almost not cool anymore. But Banksy has never been more mysterious as his street art still magically manifests out of nowhere. And how many of his pieces have you seen? And where oh where can you even see them? This iPhone app tells you where.
We may be four days post-Halloween, but in my opinion costumes are good all-year 'round. Especially when they're as effective as George Schnakenberg's Banksy "flower thrower" stencil get-up. Bravo! [Craft via Boing Boing]
Just when I thought The Simpsons couldn't surprise me anymore, yesterday's 10/10/10 episode had the most acidic, in-your-face title scene I've ever seen on TV. Not surprisingly, it was storyboarded and directed by legendary graffiti artist Banksy. Update: Video back up.
Every aspiring Banksy has run into the same problem at some point in time—he or she has defaced public property beautifully, but no one wandering the area at night can see it. With the power of design brand Suck UK's glow in the dark Graffiti, however, this quandary will affect the noble street artist no more. Now…