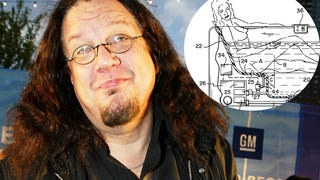 Awkwardly-coiffed magician Penn Jillette is an inventor. His greatest triumph: a "hydro-therapeutic stimulator" for women with jetstreams directed to "stimulation points (e.g., the clitoris) of the female user when the female user sits in the seat." Meet the Jill-Jet.
Today, the folks at Topless Robot count down 11 bad Draculas. There's one inclusion I take umbrage with: Morgan Freeman's depiction of Vlad on The Electric Company in the Seventies. C'mon! He took baths in his coffin!


You think True Blood is racy? On The Electric Company (Sesame Street's sister show), Freeman would…
Instead of manually checking the water with your hands to make sure it's not too warm or cold, just plop on this digital bath spout cover and be done with it. The easy-to-read display shows both the temperature in number form and in color form. Once you get your water just right, dump your child inside and get back to…
Although I've taken fewer baths than I have fingers, this Cosmo Hydromassage Whirlpool Bathtub may make me a believer in the benefits of lying down and splashing in my own filth.