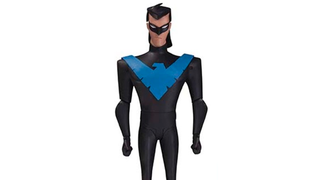 We've known it's been coming for a while after DC announced delays to try and fix the problems with the toyline, but at last, here's some good news for the toyline based on Batman: The Animated Series and The New Adventures Of Batman: Nightwing is on the way, and he looks rather lovely.
We've all got a soft spot for the Tumbler that Batman drove in the Christopher Nolan films, even the Batmobile from Tim Burton's take on the caped crusader was memorable. But nothing will ever top the sleek, art deco-inspired Batmobile from Batman: The Animated Series that many of us remember from our childhoods. So…
Finally getting action figures emulating the gorgeous style of Batman: The Animated Series has been like a dream come true for fans of the cartoon - or it should have been, if they weren't riddled by quality issues. But hooray! DC have finally addressed the problems, and have announced plans to hopefully fix them.
It seems like everyone's turning to Virtual Reality lately as a marketing promo, the likes of Pacific Rim and Interstellar are the latest to use the tech to plug themselves. Not to be left out, Warner Bros. is joining in by letting people poke around the Batcave - but not just any Batcave. Batman: TAS' Batcave!