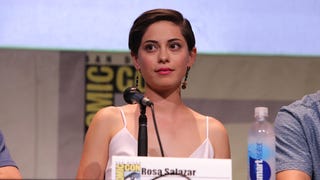 We were pretty excited to see Robert Rodriguez sign on to take the helm of the long-simmering film adaptation of Battle Angel Alita. Now, the project has cast its lead actress: Rosa Salazar.
Six months ago, James Cameron passed the torch for his adaptation of Battle Angel Alita to director Robert Rodriguez. Since then, we haven't heard much about this long-delayed anime adaptation. But we've just gotten a significant update: three actresses are in the running to play the lead character.
Never Too Early Movie Predictions takes its Oscar predictions very seriously, calling the nominees and winners of not just this year's Oscars, but the Oscars through 2017. The short version: expect James Cameron to pick up a few statuettes for Battle Angel Alita.
Yesterday, we showed you the best robot bodies to download your brain into. But what if you don't want to lose your meat body? Here are 10 robot bodies you can jack into, without leaving your body, like in Surrogates.
With Avatar nearly in the can, James Cameron is looking toward the next subject for his 3D motion-capture lens. And he's considering the move from sexy blue aliens to sexy cyborgs with an animated adaptation of Battle Angel Alita.