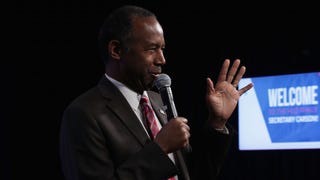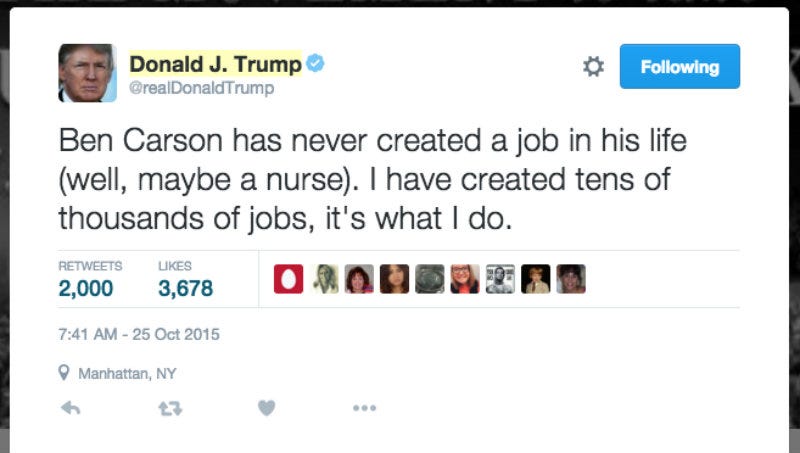 On Friday morning, man perpetually waking up from a five-hour nap Ben Carson endorsed former rival Donald Trump. The endorsement took place at a Trump-owned country club in Florida. Heartwarming! And also, while we're here, a very good time to look back on all the nice things Donald Trump has said about his newest…
GOP presidential candidate and fart-pill shill Ben Carson guest-blogged on Recode to promote his new prescription for cybersecurity: "Heal + Inspire + Revive." The plan is a mushy combination of buzzwords and contradictions.
After the internet had a chance to hear Ben Carson's theory about the pyramids, #bencarsonwikipedia has popped up on Twitter. It's a safe space where supporters are sharing facts that you might find on Wikipedia in some alternate universe where Carson gets elected. Here is a non-definitive sampling of the best.
Ben Carson denied ties to dietary supplement company Mannatech at last night's GOP debate. "Total propaganda," the candidate said. Carson's denial is easily refuted. He has promoted the company in infomercials and at live events since 2004, and admitted that it helped fund his endowed chair at Johns Hopkins.
For every elected official who carefully educates themselves on the facts and research prior to making an informed decision, there are a dozen more who have no problem shooting their mouths off on talking points they do not understand. As we learned last night in the second Republican presidential primary debate, many…
Now that 7,000 American men and several drunk farm animals have officially declared their candidacies for President, keeping track of them has never been more confusing or difficult. Luckily, we've put together a "cheat sheet" with "quick trivia" to help the political layperson discuss with confidence the nuances of…