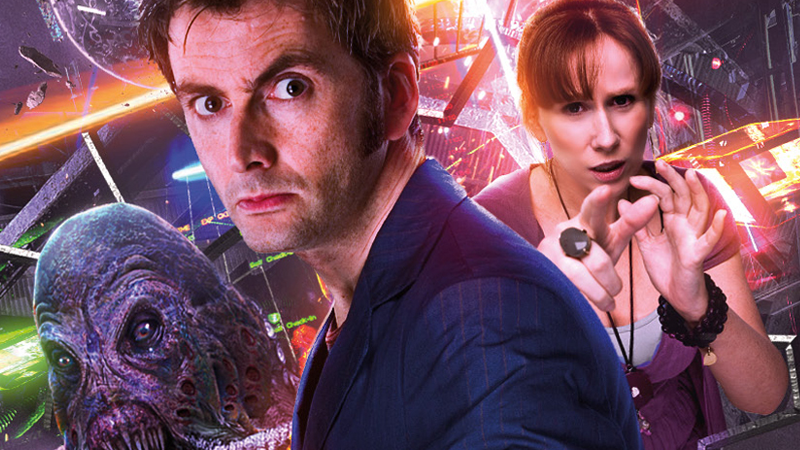 Sure, Doctor Who might not be on TV an awful lot this year, but if you're itching for a fix of new Doctor Who, Big Finish's audio drama series is here to help. And thanks to them, now you can hear the triumphant return of the best Doctor/Companion duo of the modern era.
Fancy spending Christmas with a Dalek? The newest Humble Bundle collection is just for you. The Doctor Who humble audiobook bundle features 4 series of classic audio dramas from Big Finish: Dalek War 1 and 2, Dalek Empire and The Sixth Doctor: The Lost Stories. Pay what you want, get great stuff to listen to!
We've only seen a brief snippet of John Hurt's Time-War-ravaged incarnation of the Doctor, just his appearance in Doctor Who's 50th Anniversary in 2013. But next month, that's going to change, with the release of the first in a series of War Doctor Audio plays—and you can hear Hurt in action right now!
Last month, Doctor Who audio play producer Big Finish revealed that the Tenth Doctor and Donna Noble would finally return for a whole new series of audio adventures. Although we have to wait to hear them all until May of next year, there's now a quick preview of what's to come.
Big Finish have been teasing something big for a while—an ever-increasing number of audio stories set in the world of post-2005 Doctor Who. But now they've just announced their biggest one yet: a brand new series of adventures for the Tenth Doctor and Donna Noble, with both David Tennant and Catherine Tate returning!
The War Doctor is back! John Hurt's conflict-ravaged incarnation of The Doctor has (so far) only made an appearance in Doctor Who's 50th anniversary special, but that's about to change: Big Finish have announced that John Hurt will reprise the role in an ongoing series of audio plays set during the Time War.
Fans of Doctor Who's Victorian-era "Paternoster Gang"—Silurian and human couple Madame Vastra and Jenny, alongside their Sontaran butler Strax—have been clamoring for a spinoff since they first appeared. While that may not happen on TV, a new audio drama is the closest thing you'll get to one anytime soon.
River Song has become a bit of a controversial figure on Doctor Who—even the fans who like her aren't sure they want her to return to the show. But while River isn't back on the TV show for now, she is making the leap to Doctor Who audio plays. And this time, she gets to have adventures with classic Doctors.
With the recent news that the revived series of Doctor Who will soon get its own spinoff series of Audio plays featuring UNIT, you might have wondered about the long history of Doctor Who on Audio. Want to dig in? There's a world of stories out there that if you just watch the show, you're missing out on!
The no-nonsense daughter of Doctor Who's beloved Brigadier has been a welcome addition to the Who-niverse in the past few years. Now, she's getting her own spinoff series as part of Big Finish's collection of Doctor Who audio dramas. But the news could have far reaching implications beyond just Kate...
The Doctor Who audio adventures sold by Big Finish have gone a long way towards rehabilitating the much-reviled Colin Baker version of the Doctor. Are they about to throw all that away now?
Proving once again that it's the little scifi series that could, Sci Fi Channel's wormhole travel show Stargate is about to make the jump into a whole new medium: the audio play. According to an interview with Jason Haigh-Ellery, the head of Doctor Who and Dark Shadows audio producer Big Finish, SG might be the first…
Wanting to visit the Doctor while on the way to work? Then look no further than Big Finish's Doctor Who digital download service. The British company, who've been releasing monthly audio plays starring previous Doctors on CD since 1999, are embracing MP3s as a way to supply nostalgia to fans while also getting around…