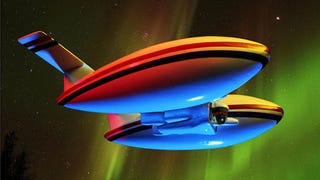 Does Sasquatch (or Sasquatches) really exist? That question has been hotly debated by the scientific community for decades. But now, one Idaho State University cryptozoological team is hoping to finally provide a definitive answer—using this autonomous blimp outfitted with NASA-quality photographic equipment.
If you've ever wondered where the true home of sasquatch might be, then this visualization of sightings could help you track the mythical beast down.
Boys love three things: sports, spies, and cryptozoology. At least that's what Fisher-Price is banking on with their new remote control Big Foot, an expressive monster that can sleep, somersault, and stomp with the best of 'em.
T-Mobile's next gen T1 Android phone—Samsung's Bigfoot—looks like it features AMOLED and a slide-out QWERTY keyboard, and will actually be available sooner than we thought.
Boy Genius says the next-gen T-Mobile G1 (Bigfoot) supposedly seems to continue the practice of having a slide-out QWERTY, but this time, won't have that curved chin blocking your right hand.

I have something of a penchant for acting out scenes from '80s movies in real life. Whether it is using my favourite chat up line, "come with me if you want to live" at bars, instinctively contorting my body into a wobbly "crane" position when faced with impending violence, or coaxing drunken fat friends into doing…