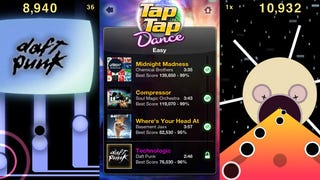 The most popular free iPhone game of the year has gotten a full overhaul with more Open GL goodness, more frantic Guitar-Hero-inspired music tapping, and most importantly, more Daft Punk.
The Gadget: Moray in-ear headphones from gaming gear giant , designed to be ultra-bassy and equally suited for MP3 players or Nintendo DSes.: $40. : Razer's surprisingly strong suit . While the build quality of Moray is pretty typical of $40 buds (and sadly, ), they definitely perform above and beyond their class.…
The Gadget: is the top of the line Slingbox that streams your cable to any computer that can connect to the internet. The Sling Pro HD is a big step forward for Sling, now centered around the full HD experience, with component inputs, and OVA tuner, and 1080 HD streaming not just over local networks, but remote…
Sometimes, two companies decide that it would be advantageous to them both to release a product together. Sometimes it works well, like when
Nike and Apple teamed up
. Sometimes, it's a bit more awkward. For this week's Photoshop Contest, I want to see some really awkward cross-promotions. You know, like a Jimmy Dean…
This week, we're having a bonus MS Paint contest. That's right, two contests in one week! Get excited! If you don't feel confident enough in your Photoshop skills to enter our
Olympics-ruining contest
, this is for you. I want you to create your dream gadget using MS Paint (or equivalent rudimentary image program).…
We already know that Netflix has partnered up with LG, but a recent conference quarterly call has revealed that there are three other players in the mix:
So which companies could they be talking about?
Logitech just rolled out its VX Nano Cordless Laser Mouse, especially designed for notebooks but still using that hyperfast scroll wheel that Blam liked so much in its big brother, the MX Revolution. Its most remarkable feature is its improbably small USB receiver, the tiniest yet conceived. How small is it? Insert…