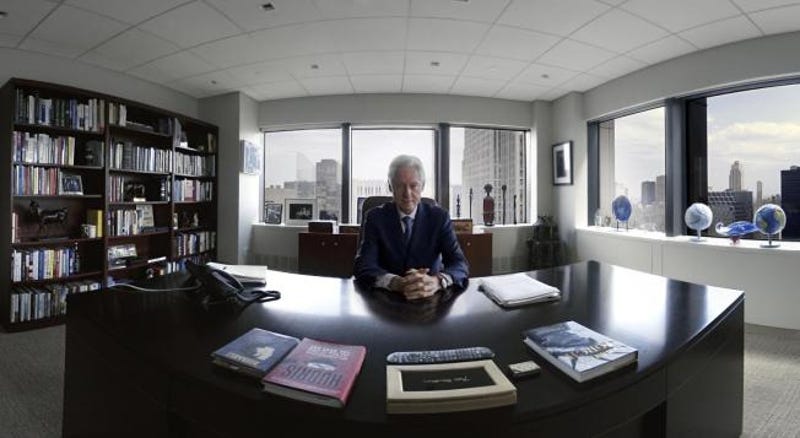 The towers of Midtown Manhattan sparkled in the distance as I sat across a gleaming desk from Bill Clinton. Bill (I can call him Bill, right?) smiled—I thought, man, that vegan diet is working for him!—as he began telling me, in that signature hoarse voice, about his foundation's work in East Africa.
Presidential candidate Hillary Clinton does a lot of things. She runs for president. She rides in vans. She hides her emails from the American people. But what does Hillary Clinton really do? It's a philosophical puzzle, really—one that only an algorithm can solve.
During his 1984 State of the Union speech, President Reagan announced that the U.S. would build a new permanently manned space station within a decade. The Space Shuttle program was underway, and a permanent space station seemed like the next logical step in our bold push into the final frontier. It didn't hurt that…
Bill Clinton, former POTUS, was so tech un-savvy during his presidency that he only sent out two e-mails when he was in office. One to the troops in the Adriatic, one to John Glenn and none to any interns. [Gawker]
Want to own something that's been touched by Bill Clinton, yet still relatively clean? Bid on this iPod.
According to an article published on the KHQ station website out of Washington State, taxpayers support former Presidents to the tune of $2.9 million per year. The biggest spender? Good ol' Bill Clinton.
While he may have been a dab hand with a Cuban cigar, it seems that Bill Clinton is not so well-versed in the art of gadgetry. According to some mobile marketing firm, the former president and keen humidor aficionado has just sent his first text message to Hillary on the occasion of her 60th birthday. Rumors that the…