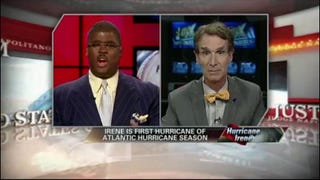 Check out our favorite science guy, Bill Nye, struggle to be tactful when all he wants to do is explain science to people. That's why we love you, Bill. This Fox host loves you, too. Science, maybe less so. [Mediaite]
Click to viewHaving once been an oil skimmer himself, Bill Nye knows just as much about oil spills as he does about every other scientific topic. So leave it to him to succinctly and simply explain the challenges of cleaning one up.
Exclusive: Bill Nye the Science Guy was gracious enough to elbow Matt out of the way and write a Giz Explains column, in which he tackles the science of "oleophobia," and its relation to the new iPhone screen.