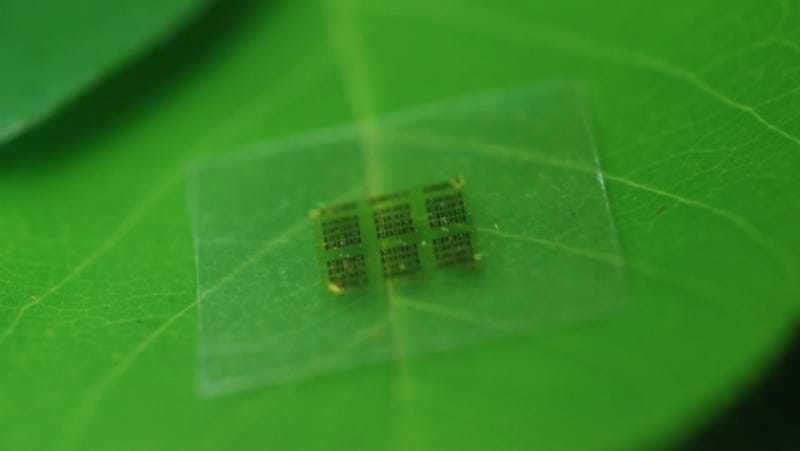 We're one step closer to biodegradable gadgets. These computer chips are made almost entirely out of wood.
Would you spend $13 on a pair of rubber slippers that start to rot away the second you open the packaging? It's a feature most people would like to see on those aesthetically-challenged Crocs, but the O1Ms are from a Spanish company called One Moment and are made from a soft vegetable-based plastic that will…
Lobsters! Not only do they have delicious meat, their shells have use too! Researchers at the University of Maine have developed a biodegradable golf ball from lobster shells. It's cheaper than the typical biodegradable ball ($0.19 vs $1) and can be hit straight into the ocean without the environment weighing down on…
When you think earth-friendly, biodegradable shoes, you probably think of something rather ugly and hemp-looking. The OAT shoes, however, are perfectly fine to toss in the compost heap, and are pretty attractive! So wear 'em out, guilt-free. [OAT via TreeHugger]
Next time you're camping, instead of digging a hole or using one of those suspect comfort castle port-a-johns to dispense with No. 2, why not infuse a little portability into nature's call with the Shit Box? It's completely cardboard, fully biodegradable, and utterly ridiculous. And yet, I'm drawn to it. I want to see…
The reason plastic is awesome is that it's super durable, so it lasts forever, which is an issue when we want it to go away and take its place in the circle life. Biodegradable plastics aren't new, but in the past they've been pretty weak and expensive. Eco-geeks at the Missouri University of Science and Technology…
In their quest to save our dying planet, ecologically concerned people are often forced to make sacrifices. If you're compelled to join them, you can start by getting rid of that fancy superstore toothbrush and replace it with the Source Toothbrush, an environmentally friendly hygienic tool constructed from wood…
We're always on the lookout for the latest high-technology innovations in sexy ladies underwear, and although this Lenpur fabric is made of white pine wood scraps, it offers "the comfort of silk, the feel of cashmere and the coolness of linen. The resulting pieces acquire surprising thermal regulating and anti-stress…
If everything you've done in life, you've done in style, why go to your grave in an unattractive box? For $3,500 you can get yourself the high gloss Uono Cocoon Coffin, in your choice of fourteen standard colors (or you can use their Haute Couture service if you'd like to pick another) . Even crunchy granola types…
The thing about dying, and subsequently being buried, is that you stand a good chance of eventually being turned into worm poop. Now, while this thought may sit well with some of you, I prefer the more romantic notion of being reborn as a tree of some sort.