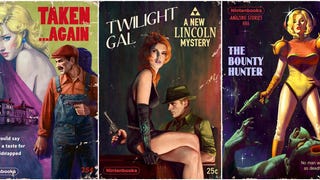 From artist Ástor Alexander come these video game-inspired pulp covers: Super Mario, The Legend of Zelda, and Metroid. My favorite is the Mario one, mostly because I imagine that it's a series, and every book ends with Mario heading to another castle.
Bioshock: Infinite concept artist Claire Hummel really loves your naughty drawings of quantum physicist Rosalind Lutece. Really, she does. She just wants to give you a hand by explaining just what goes on beneath Rosalind's vest.
La firma Cook&Becker y el estudio creador del juego BioShock Infinite, Irrational Games, se han unido para vender los pósters más fantásticos que hemos visto del título. En realidad, no son pósters estrictamente, son pantallazos tomados del juego, pero están basados en los renders en super alta definición, por lo que…
Quizás recuerdes haber visto el increíble demo de BioShock Infinite lanzado durante el E3 2011, pero tal vez no recuerdes que se veía totalmente diferente.
Hay pocos paisajes en un juego tan ingeniosos e imaginativos como la ciudad flotante de Columbia de Bioshock Infinite. Sospechábamos que no tardarían mucho en portarlo a otro juego no menos imaginativo, Minecraft, pero no nos imaginamos que tardarían tan poco. El vídeo, creado por el usuario volx1337, que también…
Between the floating city of Columbia, the steampunk aesthetic and the evil robot George Washington Terminator, I imagine there's a lot of io9 readers interested in the new video game Bioshock Infinite. But playing video games is Kotaku's things, not ours. What to do? Well, how about we just watch the game's footage…
We know our sister site Kotaku does the video game coverage, but Bioshock Infinite — with its floating city, early 1910s setting, and blimp-punk aesthetic — just appeals to us for some reason. As does this newest trailer, which takes a look at the history of the city of Columbia as if it was one of those insanely…