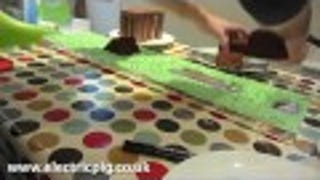 It may've taken poor Dad 10 hours to make (and just minutes to destroy), but there's something to be said about this cunning physics exercise forced upon the six year old birthday-boy. We hope he learned a valuable lesson about the rules of position, velocity and acceleration—not to mention the importance of…
AppTOKYO (!!!) is offering their new "Happy Birthday Cake" iPhone app for free for one month, so you can literally do as little as possible to celebrate somebody's birthday.
Flickr user fsumaria has herself a great husband. After all, only a great husband would bake a Nikon D700 cake for his wife's birthday then follow it up by giving her the real thing.
This Millennium Falcon was never going to do the Kessel Run... but it might just qualify as the most awesome birthday cake ever made. I mean, look at the detail! Made by Charm City Cakes in Baltimore, one lucky guy received it this weekend... and can you guess his generous brother's profession? Yup, you were close:…
Morgan Valentine, better known as best wife ever, ordered a custom-made Optimus Prime cake for her husband's 30th birthday. The cake was made by Nashville's The French Connection, and has dirt, rocks, grass, plants and an Optimus Prime the size of a toddler. I bet the guy even got sex afterwards. [Flickr via Boing…