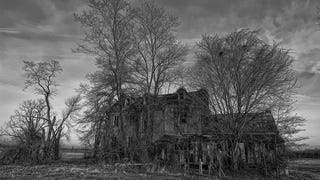 Our gorgeous fall leaves are gone for the season, and we're left with bare trees over a sky of grey. But that, too, can be a beautiful thing in its own way. For this week's Shooting Challenge, let's celebrate trees without the leaves—in black and white.
Art that's unexpected always tickles me. Like these pieces from Katharine Morling. They look like black and white drawings from a comic book but they're actually ceramic sculptures made from clay and porcelain. Yep, these things aren't just sketches or made from paper, they're cheeky fun sculptures.
Who needs color when good old black and white photography is so simply beautiful? Here are the results from this week's Shooting Challenge.
The world's first photograph was murky wash of grays. So as you take black and white photos for this week's Shooting Challenge, don't consider yourself an artsy poseur. Call yourself a historian.
Sometimes it feels like the romance of the road is lost at truck stops. Those oases of diesel fuel and stale coffee seem too industrial, too pragmatic to fit into a Kerouac-style vision of road tripping. Photographer Michael Massaia lends some highbrow class to the truck stop with his series Seeing the Black Dog. …
Black and white photography will always have a special aesthetic—but when you mix that look with night? Shadows and highlights marry into a void painted in silver. Here are the stunning results of this week's Shooting Challenge.
Call it noir, or just call it what it is: Black and white at night. For this week's Shooting Challenge, ditch the cheesy detective hats, but keep the beautiful juxtaposition of whites, blacks, and the gradient grey in between.
They're romantic and inherently a bit melancholy. Black and white city portraits have a flare for the overdramatic, and for this week's Shooting Challenge, you captured all of the simple charm and deep intensity of your city.
Our cameras have captured color for a long time, but we're all still obsessed with black & white. How could that be? Participants to this week's Shooting Challenge offer 180 reasons why:
In the age of color, black and white photos can be a cliche crutch to scream "I AM AN ARTIST!" But it's also a powerful way to capture contrast and texture. For this week's Shooting Challenge...
LeicaRumors is reporting a crazy Leica rumor! The luxe German camera firm is rumored to be readying a B&W-only model. With no LCD screen. That's right: no colors, no screen, just black and white shots forever. Brilliant or moronic?
Further evidence that media's placating massage fingers mine even the deepest jelly regions of our brains, a new study has claimed to prove the long-thought notion that the type of TV and film exposure during youth drastically affects the color of dreams, even much later into life. In the study, only 4.4 percent of…