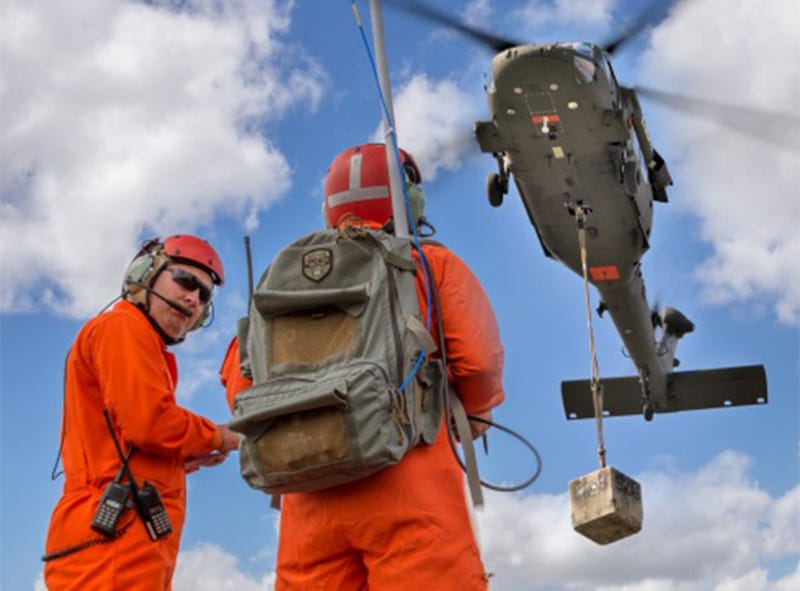 When the US Army wants to have fun they turn to Sikorsky and ask them to turn their 5.2-ton UH-60 Blackhawk into an unmanned helicopter remote controlled by some guy with a backpack and a joystick. Unfreakinunbelievable.
Former Pentagon senior policy analyst F. Michael Maloof claims that Israel is using the same ultra-secret stealth H-60 Blackhawk helicopter that US Special Forces used to hunt down bin Laden. How is this possible?
That mostly-intact tail of the top secret stealth helicopter that helped kill Osama? According to US intelligence figures, Pakistan gave China full access as revenge for the raid—including photos, and chunks of the damn thing, the NYT reports.
But don't worry! They're just 1:144 scale toys. If this is the extent of Chinese reverse-engineering efforts, then the Pentagon can probably wipe the sweat off its trillion dollar brow. I'd still like one of these for my desk, though.
The mission to kill Osama bin Laden went almost perfectly, in that we killed Osama bin Laden. One hitch—we had to blow apart an extremely expensive (and extremely secret) stealth helicopter. And we left a big piece behind.
Ever since SEAL Team 6 blew up its downed, stealth Black Hawk, aviation geeks around the globe have been trying to figure out what the hell it was. One flight expert has gathered the clues and created this detailed rendering.
With the inclusion of two 512MB GeForce Go 8800GTX graphics cards, the Black-Hawk XR5 will be the first laptop to feature such graphical power. Along with a 17-inch screen, Core 2 Quad processor and EV-DO support, Black-Hawk clearly is not messing around, and intend for the XR5 to be a desktop replacement.
A military clothing company has come up with Warrior Wear, a line of trousers and shirts with I.T.S. &mdash that's an integrated tourniquet system &mdash attached for those fighting on the front line. If you are hit, you just pull the corresponding tourniquet tight to stem the bleeding from the wound. There are four…