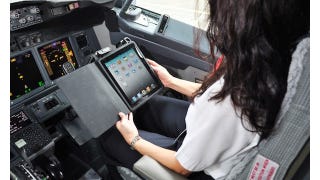 Alaska Airlines has become the first US airline to move away from paper to the iPad for their flight manuals. The measure will save money on paper and fuel while allowing pilots to play with Leafsnap during long trips. [Engadget]
Google decided to close the doors on Google News Archives yesterday, announcing that they will no longer digitize back issues of newspapers. That means that Google won't be accepting any news about the Rapture today even for posterity's sake.
As of today, Android users can now take advantage of Flash 10.2 beta on their Froyo, Gingerbread, and Honeycomb devices. Honeycomb users are getting a beta release, though, so full hardware acceleration is turned off until more development is done. But for all of you who went out and got the Xoom, you can watch clips…
Google's ramping up its efforts to get you to spend your hard-earned cash without leaving the comfy confines of its applications; according to TechCrunch, the company will be introducing web-based in-app payments as early as this May, with in-app payments for Android not far behind[TechCrunch]
As if there wasn't already enough competition between Apple, Google, HP, Microsoft and RIM in the smartphone space, China Unicom is entering the mix in their own country with the Linux-based WoPhone platform. It already already has support from major handset makers, including HTC, Motorola and HTC. [Cnet]
Jesse Eisenberg—not an Oscar winner. However! As part of his Hey sorry, no hard feelings goody bag from the Academy, he's getting a $200,000 free trip on Virgin Galactic—along with all the other losers. [NYP via Hairpin]
Did you hear on the Twitters how Feb. 23rd was Bart Simpson's birthday? Netflix tweeted it! Rolling Stone tweeted! Some guy you started following a few months ago and instantly forgot about until now probably tweeted it! Only problem? They were all of them wrong. Here's how it happened.
OS X Lion Will Use TRIM commands when dealing with SSDs, which will extend the life of the storage devices found in all MacBook Airs. [HardMac via Cult of Mac]