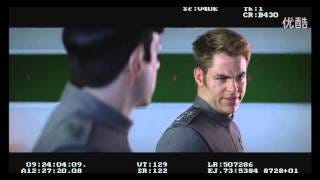 You've seen brief glimpses of the shenanigans aboard the Starship Enterprise, but now get the whole space enchilada. The entire gag reel from Star Trek Into Darkness has been released and it is glorious. Behold the majesty!
I have a confession: I have not watched The Lego Movie yet. I know, I know. I am a terrible human. My childhood self would shake his head so hard. Heck, my adult self is shaking my head at me! I'm going to watch it ASAP now though. Because after watching this "blooper" reel from The Lego Movie, I'm curled up in a ball…
Everyone gets goofy in this gag reel from the Star Trek: The Next Generation Season 2 Bluray. Watch Brent Spiner fail to tell a dirty joke, plenty of Michael Dorn giggles, and the way Patrick Stewart and Jonathan Frakes comfort one another when they stumble over their technobabble.
We've established many times over that quadrotors are going to kill you, probably in your sleep. And that's, you know, that's okay, we've come to terms with it. Or had, until we found out their crucial weakness: they're actually hilariously bad at quadrotoring. Watch, giggle, and hope that it's one of these fools…