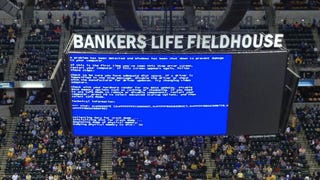 The dreaded BSOD is always annoying and never funny... unless it's on a giant jumbotron at a basketball game. At a Pacers game in Indiana, the biggest BSOD popped up on Bankers Life Fieldhouse's giant hanging screen for everyone to see. And to laugh at. And to tweet about. And to remember how awful and sucky that BSOD…
I don't know why my belt crashed. I went to the restroom and then zipped up and then shook my hips like Elvis in the mirror...wait, Belt 7 isn't Elvis compatible. That explains everything. [GeekGoneChic via Crunchgear]
No matter how many of these we see, they never really seem to get old, do they? [Failblog]
We've been fiddling around with the Windows 7 Beta for a few days, but just now finally run into that old friend of Windows users: the blue screen of death. It looks the same.
Seeing a Windows blue screen of death is fine, if annoying, if you're just balancing your checkbook, but what if you see it in more...precarious situations? Like when you're pumping gas? Reader Dave saw this at a San Diego Shell station, after which he bravely continued filling up—but not without hiding his face…
Looks like iTunes 8 is really not playing so well with Windows. Users of both 32-bit and 64-bit Vista
are reporting
getting the blue screen of death whenever they plug in an iPod or iPhone. Downgrading back down to 7.7 appears to solve the problem, but not without some weird, but easily fixable, app-erasing hijinks.…
Well, this is just perfect. At the exact moment Li Ning was rounding the lip of the Bird's Nest during the amazing torch-lighting climax, someone snapped this photo of our good friend the BSOD nestled among the Nest's steel twigs. Perhaps an Opening Ceremonies IT dude spit out his coffee on the machines in the server…
Call it juvenile, but a good Blue Screen of Death (BSOD) cracks me up every time. And when it's presented with so much pride by an unsuspecting Mrs. Potato Head...all the better. Snapped at Disney World, one reader couldn't resist sharing the experience.
Welcome to the dark side, Danny. With time and study, we'll…
We're not sure what's worse; the Zune guy getting three Zune tattoos, or this painful-as-hell Microsoft blue screen of death (BSOD) tattoo up this guy's entire right arm. We're guessing this guy is a Windows fan, because nobody hates Windows THAT MUCH to endure hours of pain just for the constant reminder that Windows
I'm not much of a gambler, but when it comes to slot machines, I used to think these things were like ATMs—meaning they were indestructible. But alas it appears even our quarter-popping friends are prone to the occasional blue screen of death, which leaves me wondering what else they're vulnerable to. – Louis Ramirez