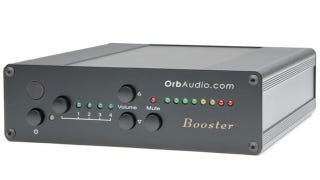 Orb's new Booster amp is not meant for full-sized home theaters, nor is it meant for surround sound systems. Instead, it's meant to power a small or medium-sized stereo speakers which you might use with your computer, or even your TV.
Here's a beautiful video of the Space Shuttle Atlantis launch taken by two separate cameras installed on the rocket boosters. You can follow the Shuttle on its way up and watch the rocket boosters fall back down until they splash land in the Atlantic Ocean. [NASA Television via PopSci]
Endeavour was launched into space today for the last time ever. Prayers don't shoot shuttles into space, though: Hurtling Endeavour and its crew 28 miles straight up were a pair of 1.3-million-pound reusable solid rockets.
Would you like to feel like our furry hero Spacebat? Here's your opportunity: Jump on board the solid rocket boosters as they separate from the Space Shuttle Discovery during its March 15 launch.