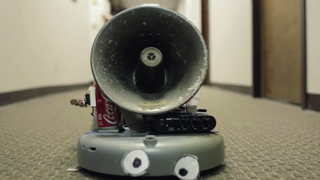 Slack es una herramienta de comunicación para empresas que cuenta con un curioso asistente virtual llamado Slackbot. Este robot se puede programar para responder a diversos comandos de texto de manera automática. Pero en la agencia de publicidad RedPepper lo llevaron a otro nivel al darle vida en el mundo real.
Ellie may be a computer simulation, but she's incredibly perceptive. By reading the body language and vocal inflections of real live humans, she can engage in surprisingly meaningful exchanges, and even evoke emotional openness from her conversation partners. Her creators believe her receptivity to human emotional…
In a twist on the traditional Turing Test, BotPrize asked contestants to program a bot that could play Unreal Tournament 2004 with all the imperfections and trash talk of a real player. See if you can tell human from bot.
Designer Ji-hoon Kim has come up with an ingenuous idea for cleaning up oil spills. Using various features such as boom control modules, solar panels, oil protection boom, communication modules, boom connectors, and propulsion modules the OSP robots work together to surround an oil spill site with an inflatable…
Those spiffing fellows at the University of Plymouth, UK are undertaking a research project involving a baby-bot named iCub, which will see the robot actually learn how to speak. The three-foot high robot will help researchers deduce how language is taught, but the further reaching impact of the study include the…
All you bot builders listen up. Singapore's Defence Science and Technology Agency is holding a contest to see who can build the best street-fighting robowarrior. The prize? One million Singapore dollars (about $652,000 US). The bar is set pretty high, however, as the winning bot will have to know how to move within…