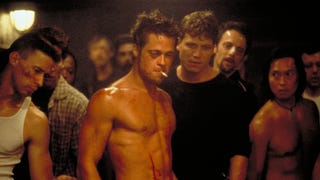 Fight Club is a work of fiction by Chuck Palahniuk, a famous author who once described his life as "very blue-collar." Fight Club is also a (fantastic) movie, directed by David Fincher, that hit theaters exactly 15 years ago today. Watch it again tonight, but with an extra little piece of knowledge: Fight Club is not…
Make It Right launched in 2007 to rebuild homes in New Orleans' Lower Ninth Ward that were devastated by Hurricane Katrina. Now the nonprofit founded by Brad Pitt has moved on to other communities in need—and its next project will be building sustainable homes for Native American tribes in Fort Peck, Montana.
One of the cardinal rules of Hollywood is that in order to be a very good looking actor, you also have to be very smart. So, we're confused as to why Brangelina seem to be breaking that rule. INTERNET HARD.
Best Buy and Walmart battle for the right to screw the most customers...Brad Pitt Foundation creates an anchored floating house in New Orleans...Nobel Prize awarded to the three "masters of fiber optics"...Back-to-school laptops sales basically recession-proof...
Celebrities often cash in on commercials overseas, and Brad Pitt, a speechless spokesperson for cellphone company Softbank, is no exception.
Here's an unlikely combination brought to you by the Japanese ad industry: Hipster director Wes Anderson, sexy third-world-kid-adoptothoner Brad Pitt, topless French ladies and... Japan's Softbank cellphones.