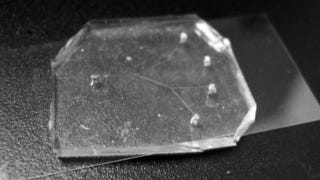 That's a breast on a chip. Why? Because though it looks like a slide, it actually accurately mimics the branching mammary duct system of a breast, where most breast cancers begin. That's key for cancer research since scientists can now test new approaches for treatment, like magnetic nanoparticles. It sounds insane:
The gals at Jezebel have stumbled onto the party trick of the decade: How to detect breast implants using only a flashlight. While it may not exactly be an entirely scientific method, it most definitely looks fun.
I cannot fathom why someone would surgically shove a silicon bra into her body. Sure, your breast will look perfectly shaped and perky even once clothes come off, but you'll also have bra straps going through your muscles and ribs.
Much like the search for El Dorado, the quest for perfect breasts has driven man around the globe. Today, it brings us to Japan. Again.
Oh Japan! Why must you take something so pleasurable—massaging breasts—and devise a mechanical substitute for doing it yourself? And not only that, paint it gold, call it "Lucky Palm", and plaster a Buddha on the side? That's right, it's a Lucky Palm Breast Massager, straight from Japan, powered by AA batteries. As…
If you're picturing a boob when you're squeezing a regular squishy stress reliever anyway, why not just cut out the illusion and make one actually shaped like a boob? This Instructables post shows you how in 12 easy steps, provided you have the prerequisites first (a woman that will let you use her boob as a mold).…
On account of October being the official Breast Cancer Awareness month, here are three gadgets you can purchase to help the cause. The 6GB USB Seagate HD, the Pioneer Inno, and Sanyo 3100. They're all pink, and all go great with your pink PSP, pink PS2, and Pink albums. Do your part to squeeze out boob cancer! – Jason…