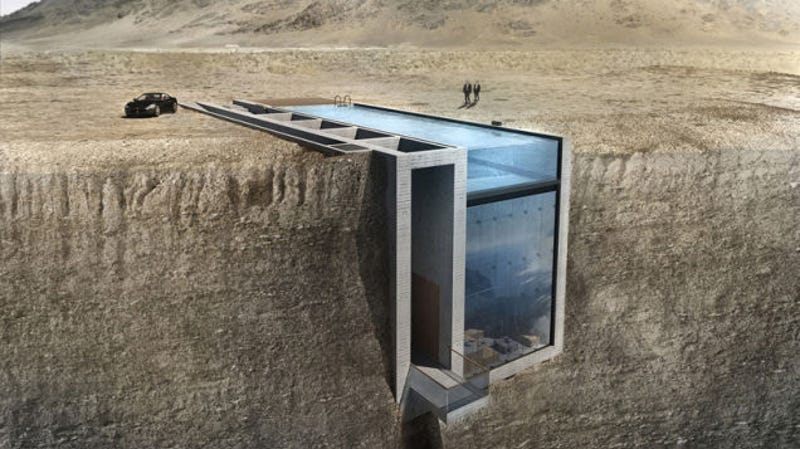 Cliffs are beautiful, terrifying, and exhilarating all at the same time. Can you imagine living inside of a glass house that was built inside of the edge of a cliff? This is what a couple of Greek architects are proposing.
It's hard to find a more polarizing architecture—even among scholars it's most likely to be described as "ugly," "unloved," or even "hated." I'm talking about Brutalism, the blocky unfinished concrete style which used to be very common in cities around the world, but is now being demolished at an astounding rate.
If you didn't know know better, you'd think the Refugi Liepthaus in the Alps was just another quaint log cabin from afar. But if you get close, you'll realize that those ridges on the walls are not logs but a beautiful brutalist exterior. It's awesome.
The ghost of Brutalism is alive and well in Granada, where Mediomundo Arquitectos have drawn on the past without sacrificing modern technology, since it houses the schools of physiotherapy, nursing, podiatry, and geriatric care at Granada University. Despite its foreboding exterior, the entire building is ventilated…
Norway finds itself in a tough conundrum after a terrorist attack crippled a pair of Brutalist buildings in downtown Oslo. Tearing down the buildings is one thing—they're crumbling, controversial and, well, brutal. Destroying the Picasso murals carved into the concrete, however, is an entirely different matter.

Brutalist architecture is easy to spot. It's concrete, angular and looks like something out of Clockwork Orange (actually, some of these buildings were in A Clockwork Orange). Check out more of the "Raw Concrete" movement from our friends at Oobject.