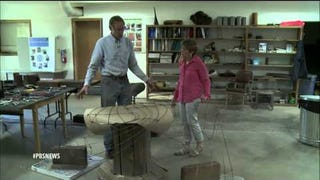 As the world's cities expand at faster and faster speeds, so does its use of cement. One oft-quoted statistic shows that China alone used as much cement in the last three years as the US used in the last 100. Just one problem: Cement is responsible for pushing a hell of a lot of carbon dioxide into the world.
If you have ever sweated through a summer in the city, you can thank those skyscrapers all around. Tall buildings trap heat that create urban heat islands. But what if you could create a building that cools the city instead? A building skin made of a series of tubes with evaporating rainwater can do just that.
James May's Lego abode may be shaping up to be spectacular, but he's far from the first person to build a house out of something novel. Here are ten more amazing homes with, shall we say, unorthodox constituents.
It can be bent into a U-shape, "heals" cracks with nothing more than rainwater, and is strong enough to build bridges from. Is Victor Li's composite building material really even concrete anymore?