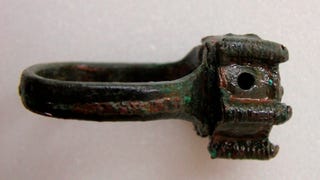 Should you have happened to find yourself dining with Bulgarian royalty 700 years ago and the wine tasted a bit off, you would have been smart to put the goblet down. Bulgarian archaeologists have just discovered a medieval bronze ring explicitly designed to poison political foes—in the most discreet way possible.
Remember those derelict Bulgarian war memorials that resemble space fortresses? Well, it turns out they're just as otherworldly inside. Here's one intrepid urban explorer's journey into the shadowy corridors of the shuttered Bulgarian-Soviet Friendship memorial in Varna, Bulgaria. It's also a case study on why you…
We've looked at some abandoned Bulgarian Socialist architecture before, but never like this. This winter, photographer Timothy Allen braved snowstorms and horrific cold to shoot the UFO-like Buzludzha monument in the Bulgarian Balkans. The resulting pictures look like the lost Communist equivalent of Echo Base.
Bulgarian cybercrime blogger Dancho Danchev mysteriously vanished a few weeks ago, worrying his colleagues and the Internet. He's back! But what happened to him? According to one report, he was confined to a psychiatric hospital.
No, this isn't a still from a sci-fi movie. It's actually the Sofia and Varna Air Traffic Control Hall in Bulgaria. Pretty amazing. [Airliners.net; Thanks, Jason!]
The area where Bulgaria hugs the Black Sea is a mass of cheap, crappy resorts punctuated by a few luxury hotels. Still, areas with untouched forest remain — at least, they will until next year, when an eco-community will turn nature into "nature" by creating a carbon-neutral city in a place where there are currently…