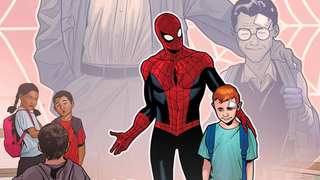 Last month, Marvel released multiple variant covers to promote National Bullying Prevention Month - but they're going one step further early next year with a Comic about Spider-Man, The Avengers and the Guardians of the Galaxy teaming up to stamp out bullying once and for all, complete with some beautiful cover art.
Phil Fish is the creator of a very popular and much loved video game called Fez. He's also the target of a lot of internet hatred. The latest hate burst has been so intense that he's calling it quits, canceling the second part of his original masterwork.
I don't care who you are: growing up is hard. Particularly if you're growing up gay or transgendered in an unsupportive environment. But what all of these people—the Apple Employees in this video, the Google employees before them, and countless others—say is true: it gets better. It really, truly does. […
It seems like a great time to be a bully. When I was a kid, even the most productive bullies could only manage a handful of victims at a time. What used to take a lot of effort can now be handled with a couple thumbs and some wifi. A hateful rumor can spread a lot faster on Facebook than it could on the school…
Until now, the only way to report Facebook abuse was to Facebook. Now they're letting you take matters into your own hands—sort of. If you come across an offensive or bullying (or otherwise abusive) photo, you can report it to a "trusted friend" and ask for IRL help with a pre-written message. It's an interesting…
Being a kid can be tough. It can be especially tough for gay and transgender kids. But take it from these Google employees: It gets better. Here they share their inspiring stories about life after adolescence. [It Gets Better]
Apple Said to Be Bullying, Giving Wedgies to Flash Memory Makers...Legendary German Camera-Maker Launches Really Boring Digital Cameras...ClearPlay's Upscaling 1080p DVD Player Allows High-Definition Censorship...Survey of Android App Developers Reveals Unhappiness With Sales...
Parents, PingAlert is perfect for your nerdy little kid. Next time he's getting his ass kicked on the playground for lunch money, he can use PingAlert to give you the heads up. You enter a special number into a speed dial on the phone, and it dials the KidsOK service which then sends an SMS to your parents with your…